New Eyes Las Vegas Ophthalmologists Among First in Southern Nevada to Implant the New Alcon Vivity™ Extended Vision IOL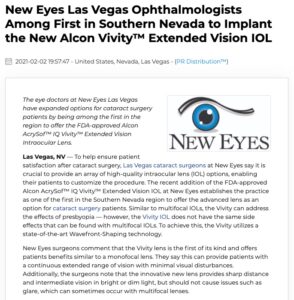 The eye doctors at New Eyes Las Vegas have expanded options for cataract surgery patients by being among the first in the region to offer the FDA-approved Alcon AcrySof™ IQ Vivity™ Extended Vision Intraocular Lens.
Las Vegas, NV — To help ensure patient satisfaction after cataract surgery, Las Vegas cataract surgeons at New Eyes say it is crucial to provide an array of high-quality intraocular lens (IOL) options, enabling their patients to customize the procedure. The recent addition of the FDA-approved Alcon AcrySof™ IQ Vivity™ Extended Vision IOL at New Eyes establishes the practice as one of the first in the Southern Nevada region to offer the advanced lens as an option for cataract surgery patients. Similar to multifocal IOLs, the Vivity can address the effects of presbyopia — however, the Vivity IOL does not have the same side effects that can be found with multifocal IOLs. To achieve this, the Vivity utilizes a state-of-the-art Wavefront-Shaping technology.
New Eyes surgeons comment that the Vivity lens is the first of its kind and offers patients benefits similar to a monofocal lens. They say this can provide patients with a continuous extended range of vision with minimal visual disturbances. Additionally, the surgeons note that the innovative new lens provides sharp distance and intermediate vision in bright or dim light, but should not cause issues such as glare, which can sometimes occur with multifocal lenses.
Intraocular lenses such as the non-diffractive Vivity IOL are used during cataract surgery to replace the natural lens of the eye when it has become clouded with a cataract. There are several types of IOLs available currently, and each one has benefits and drawbacks. The New Eyes surgeons explain that a skilled and experienced cataract surgeon can help patients determine which type of IOL best suits their needs.
Ultimately, the New Eyes surgeons say they can help ensure patients receive the best possible care. New Eyes founder Dr. Helga Pizio noted, "I'm honored to be one of the first surgeons in Nevada to bring the Vivity lens to our patients at New Eyes. I believe that our patients will benefit greatly from having access to this new and improved option for their sight."
About New Eyes Las Vegas
Founded in 2008 by Helga F. Pizio, MD, New Eyes Las Vegas provides vision care services to patients throughout the Las Vegas Valley. The practice has five convenient locations, and offers procedures such as SMART Cataract Surgery, corneal transplants, dry eye care, LASIK, glaucoma treatment, eyelid surgery, and more. New Eyes surgeons strive to provide each patient with exceptional, personalized care. The doctors at New Eyes are available for interview upon request.
To learn more about New Eyes, visit neweyeslasvegas.com and facebook.com/neweyeslasvegas.
Contact:
New Eyes
Las Vegas Office:
2020 Wellness Way
Suite 402
Las Vegas, NV 89106
Centennial Office:
6850 N. Durango Dr.
Suite 106
Las Vegas, NV 89149
Summerlin Office:
10105 Banburry Cross Dr.
Suite 255
Las Vegas, NV 89144
Green Valley Office:
7305 S. Pecos Rd.
Suite 101
Las Vegas, NV 89120
Southwest Office:
8352 W. Warm Springs Rd.
Suite 130
Las Vegas, NV 89113
(702) 485-5000
Rosemont Media
(858) 200-0044
www.rosemontmedia.com
Previous Post
Next Post