New Eyes Las Vegas Is Among the First Ophthalmology Practices in Nevada to Utilize Z-LASIK Technology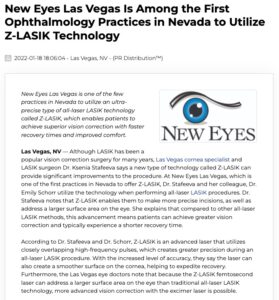 New Eyes Las Vegas is one of the few practices in Nevada to utilize an ultra-precise type of all-laser LASIK technology called Z-LASIK, which enables patients to achieve superior vision correction with faster recovery times and improved comfort.
Las Vegas, NV — Although LASIK has been a popular vision correction surgery for many years, Las Vegas cornea specialist and LASIK surgeon Dr. Ksenia Stafeeva says a new type of technology called Z-LASIK can provide significant improvements to the procedure. At New Eyes Las Vegas, which is one of the first practices in Nevada to offer Z-LASIK, Dr. Stafeeva and her colleague, Dr. Emily Schorr utilize the technology when performing all-laser LASIK procedures. Dr. Stafeeva notes that Z-LASIK enables them to make more precise incisions, as well as address a larger surface area on the eye. She explains that compared to other all-laser LASIK methods, this advancement means patients can achieve greater vision correction and typically experience a shorter recovery time.
According to Dr. Stafeeva and Dr. Schorr, Z-LASIK is an advanced laser that utilizes closely overlapping high-frequency pulses, which creates greater precision during an all-laser LASIK procedure. With the increased level of accuracy, they say the laser can also create a smoother surface on the cornea, helping to expedite recovery. Furthermore, the Las Vegas eye doctors note that because the Z-LASIK femtosecond laser can address a larger surface area on the eye than traditional all-laser LASIK technology, more advanced vision correction with the excimer laser is possible.
During LASIK surgery, a flap is created on the outer surface of the cornea, allowing the surgeon to access the inner layer, which is then reshaped with an excimer laser for vision correction. Once the cornea is reshaped, the flap is placed back into its original position and should adhere to the eye naturally. Traditional LASIK procedures utilize a scalpel to create the flap, whereas the incision is made by a laser for an all-laser LASIK procedure. Compared to a scalpel, Dr. Stafeeva and Dr. Schorr say laser incisions can provide greater accuracy, but they note that the Z-LASIK laser advances the procedure even further.
In a typical all-laser LASIK procedure, patients can expect to have blurry vision for the first 24 hours after the procedure, but Dr. Stafeeva and Dr. Schorr say some patients who have undergone the procedure with the Z-LASIK laser may notice improvement in their vision a bit sooner. Regardless of the type of technology used, the surgeons explain that patients' vision should continue to improve in the weeks after surgery, and their reliance on glasses or contacts can be dramatically reduced.
About New Eyes Las Vegas
Serving the Las Vegas Valley since 2008, practice founder, Dr. Helga F. Pizio and the team of experienced eye doctors at New Eyes — including Dr. Ksenia Stafeeva, Dr. Emily Schorr, Dr. P. Lloyd Hildebrand, Dr. Jeffrey K. Austin, and Dr. Andrew P. Kwong — offers comprehensive eye care services such as cataract surgery, glaucoma treatment, LASIK, corneal transplants, oculoplastics, dry eye treatment, and more. As one of the few practices in Nevada to offer Z-LASIK technology for all-laser LASIK procedures, New Eyes has furthered their commitment to providing the highest level of patient care throughout the community. With five convenient locations throughout the area, the practice strives to make it easy for patients in Las Vegas to make an appointment close to work or home.
To learn more about New Eyes, visit neweyeslasvegas.com and facebook.com/neweyeslasvegas. The doctors at New Eyes are available for interview upon request.
Contact:
New Eyes
Las Vegas Office:
2020 Wellness Way
Suite 402
Las Vegas, NV 89106
Centennial Office:
6850 N. Durango Dr.
Suite 106
Las Vegas, NV 89149
Summerlin Office:
10105 Banburry Cross Dr.
Suite 255
Las Vegas, NV 89144
Green Valley Office:
7305 S. Pecos Rd.
Suite 101
Las Vegas, NV 89120
Southwest Office:
8352 W. Warm Springs Rd.
Suite 130
Las Vegas, NV 89113
(702) 485-5000
Rosemont Media
(800) 491-8623
www.rosemontmedia.com
Previous Post
Next Post