Andrew P. Kwong, OD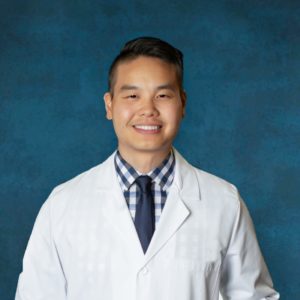 Dr. Andrew P. Kwong was born and raised in San Jose, CA. Dr. Kwong joined the New Eyes team in 2017 to provide outstanding medical eye care to Southern Nevada's residents.
In 2012, Dr. Andrew Kwong graduated from University of California-San Diego with a B.S. in General Biology. During his time as an undergraduate, Dr. Kwong served as a teaching assistant for first-year Statistics, and went on to serve as a graduate student instructor for Statistics in optometry school. Dr. Kwong earned his Doctor of Optometry degree from the University of California-Berkeley School of Optometry, graduating with Beta Sigma Kappa honors in 2016. His comprehensive optometric education included all aspects of ocular disease and post-surgical management training through externships at Veteran Affairs Hospitals in Palo Alto and San Jose.
Have been taking my mother here for an eye condition for a few test with Dr. Kwong. Our experience there has been wonderful. Great patient / customer service from Dr. Kwong and his staff. Beautiful offices in a comfortable setting. Highly recommend Dr. Kwong and New Eyes Staff / facility on Wellness Way,

Johnie Tidwell

June 26, 2018

12345
After graduating from Berkeley with top honors in 2016, Dr. Kwong completed an advanced residency in Primary Care and Ocular Disease at the VA Southern Nevada Healthcare System Hospital in North Las Vegas. Providing comprehensive eye examinations for our veterans instilled a strong sense of respect and appreciation for our patient population. With his additional medical training, Dr. Kwong is experienced in diagnosing and treating cataracts, glaucoma, diabetic eye disease, macular degeneration, and other ocular pathologies. During residency, he also served as a Clinical Attending educating rotating fourth-year optometry students, and lectured at Midwestern University Arizona College of Optometry.
Dr. Kwong is a proud member of the American Optometric Association, the National Association of VA Optometrists, and the American Academy of Optometry.
Dr Kwong practices at our following locations:
Las Vegas: 2020 Wellness Way #402, Las Vegas, NV 89106
Centennial: 6850 N Durango Dr #106, Las Vegas, NV 89149
Southwest: 8352 W Warm Springs #130, Las Vegas, NV 89113
Summerlin: 10105 Banburry Cross #255, Las Vegas, NV 89144