LASIK in Las Vegas
All-Laser LASIK is one of the latest advances in LASIK surgery, combining some of the best techniques into one procedure.
LASIK laser vision correction is one of the most revolutionary vision care procedures to come along in decades. Many individuals would like to significantly reduce their dependence on eyeglasses and contact lenses, but common vision problems such as nearsightedness, farsightedness, and astigmatism require them to have some kind of visual aid. LASIK, or Laser-Assisted In Situ Keratomileusis, has changed that. With LASIK, the eye's ability to refract light is enhanced so that objects at near or far distances become significantly more clear. Furthermore, New Eyes is one of the only practices in Nevada to utilize an ultra-precise type of All-Laser LASIK technology called Z-LASIK that enables patients to achieve superior vision correction with faster recovery times and improved patient comfort. At New Eyes, we use the latest advancements in surgical techniques and technology to provide our patients with optimal results. Schedule your consultation with one of our highly trained LASIK surgeons.
What Is All-Laser LASIK Surgery?
LASIK is often considered the standard laser vision correction procedure to reduce and even eliminate refractive errors like myopia and hyperopia. The treatment is designed to reshape the eye's cornea to better focus light into the eye, ultimately improving vision and helping patients to reduce their reliance on corrective eyewear. All-Laser LASIK is one of the latest advances in LASIK surgery, combining some of the best techniques into one procedure. All-Laser LASIK involves no surgical blades coming near the eye, utilizing proven technologies such as the femtosecond laser and Wavefront analysis. At New Eyes, our surgeons perform this procedure with Z-LASIK technology, which can create a more precise incision compared to other All-Laser LASIK procedures. This state-of-the-art device is also able to address a larger surface area, leading to unparalleled vision correction.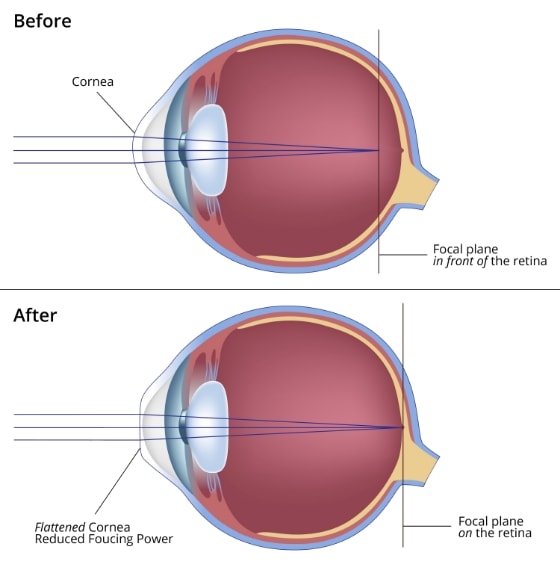 Am I a Candidate for LASIK?
With LASIK, many people now qualify as candidates for laser vision correction. Good candidates for LASIK include:
Patients over the age of 18
Patients who have had a stable vision prescription for at least one year
Patients who have corneas that are thick enough to undergo the procedure
Dr. Stafeeva, or Dr. Schorr will meet with you for a comprehensive eye evaluation and consultation before the LASIK procedure. If it is determined that you are not a candidate, they will recommend alternative laser correction procedures, such as PRK, that may be suited to your needs.
Love New Eyes and the docs there. Been going there for three years since I moved to Vegas and I highly recommend this excellent team to care for your precious eyes.
-Gayle Bernadette Ayala
How Is LASIK Performed?
The LASIK procedure begins with the creation of the corneal flap. Since this is done using a femtosecond laser, there are no blades involved. Your eye will also be numbed before surgery, so you should not experience pain during treatment. After carefully selecting the shape and position of the flap, your doctor uses the Z-LASIK laser to create a super-precise incision and a smooth surface on the cornea. This is achieved through high-frequency pulses that overlap closely for greater accuracy and improved outcomes.
In the next step of the LASIK surgery, the surgeon opens the flap so that an excimer laser can be used on the inner cornea to correct your vision. The corneal flap is then returned to its original position where it seals without stitches.
Is LASIK Safe?
When you decide to get LASIK, you want the safest, most trusted treatment available. With All-Laser LASIK, ultra-precise pulses of light are used to create a flap which is lifted to allow for reshaping of the cornea. This computer-guided technology is significantly safer and more precise compared to older methods using a blade. Additionally, the Z-LASIK laser used at New Eyes is designed to provide a higher level of accuracy, leading to improved comfort and safety for patients.
How Long Is LASIK Recovery?
You will likely experience a bit of blurry vision right after the LASIK procedure. This is normal, and should fade as you recover, although many patients are able to notice a significant improvement in their vision immediately following LASIK with the Z-LASIK laser. You can also expect some degree of light sensitivity and excessive tearing for a few days after treatment. We will schedule a follow-up exam in the days following LASIK to monitor your progress. Most patients are able to resume normal daily routines the day after the procedure.
How Long Will My Vision Be Blurry After LASIK?
LASIK from our skilled laser eye surgeons can significantly improve your vision and help you to dramatically reduce your reliance on glasses and contact lenses. Results should be apparent after the first 24 hours or sooner, and patients often experience further improvement in vision over the following weeks. LASIK is known for its more rapid recovery and earlier results when compared to other laser vision correction procedures, and patients who have undergone LASIK with the Z-LASIK laser typically have shorter recovery times and experience a higher quality of vision correction.
How Long Do the Results of LASIK Last?
In most cases, the results of LASIK surgery with the Z-LASIK laser are permanent – especially when the procedure is performed by an experienced professional. This is because the Z-LASIK laser was designed to reshape the cornea for long-lasting visual correction. While patients sometimes experience the return of nearsightedness, farsightedness, and astigmatism in the years following the surgery, this is a very uncommon occurrence. In the rare event symptoms do resurface, patients may consider a revisional (secondary) surgery.
Will LASIK Surgery Hurt?
In general, LASIK surgery is not considered a painful procedure. You will be given a sedative to numb you and help you relax throughout the surgery, leaving little to no opportunity for discomfort. In addition, one of the many benefits of the Z-LASIK laser is its ability to create a smooth surface on the cornea, which often leads to a quicker and more comfortable recovery.
Are There Alternatives to LASIK Surgery?
While LASIK is considered the gold standard for laser-assisted surgical vision correction, certain patients may not be eligible for this procedure. For example, if your corneas are not thick enough to withstand LASIK, or if you suffer from a condition such as dry eye syndrome, you may be deemed a better candidate for another laser-assisted treatment, Photorefractive Keratectomy (also known as "PRK"). PRK does not require the creation of a corneal flap, instead forming a flat surface on the cornea to correct visual impairments. If you would like further insight into which of these options is right for you, do not hesitate to bring up this issue with Dr. Stafeeva or Dr. Schorr.
How Much Does LASIK Cost?
Because we tailor each LASIK surgery to address the unique concerns of our patients, the cost of this procedure can vary. Factors such as the surgeon's fee, prescribed medications, and the particular surgical technique can all contribute to the final price.
Our team will provide you with a more accurate estimate for your individual case during your consultation. Meanwhile, we invite you to explore our financial options, which include programs through CareCredit®. We proudly work with this third-party lender to help eligible patients pay for their care through monthly installments.
Is LASIK Covered by Insurance?
Unfortunately, because LASIK is considered an elective procedure, most insurance plans will not cover it; however, you may potentially qualify for coverage if you are unable to wear glasses or contact lenses due to a certain injury or malady. If you do not qualify for insurance coverage, we encourage you to consider applying for CareCredit® if you are interested in financing your LASIK surgery.
If you would like more information on LASIK, or if you would like to schedule a consultation with Dr. Ksenia Stafeeva or Dr. Emily Schorr to discuss your options, please contact New Eyes today.
Additional LASIK FAQs
How should I prepare for LASIK surgery?
Properly preparing for LASIK surgery can contribute to a successful treatment and results. While specific instructions may vary for patients, there are a few key things to remember before your procedure.
If you currently wear contact lenses, do not wear them before surgery. Contact lenses can distort the cornea shape; therefore, by allowing time without them in, your cornea can stabilize back to its original shape. This increases the chances of a successful treatment. Our doctors will advise you how far in advance to stop wearing them. The day of your appointment, avoid alcohol consumption and eye makeup. Additionally, notify staff if you have any allergies prior to the administration of a mild sedative and eye drops.
Are there age restrictions for LASIK surgery?
LASIK candidates must be at least 18 years or older. LASIK may not be an ideal procedure for older patients who are experiencing unstable vision and age-related vision changes. Our doctors can discuss which vision correction procedure is best for you.
Why should I choose New Eyes for my LASIK procedure?
Our experienced LASIK surgeons, Dr. Stafeeva and Dr. Schorr, are highly skilled in the top vision correction techniques and technology. Moreover, they're committed to providing patients with optimal care and results. Dr. Stafeeva is certified by the American Board of Ophthalmology and is well-trained in a number of refractive surgery procedures, such as LASIK. Dr. Schorr is also exceptionally qualified with extensive experience in her education, fellowship training, and article publication. Furthermore, she was one of the first surgeons in New York City to perform laser-assisted
corneal transplantation
.
New Eyes is one of the only practices in the state of Nevada that utilizes Z-LASIK, an advanced type of All-Laser LASIK technology. Z-LASIK can help patients receive top-notch vision correction, faster recovery times, and improved patient comfort.
Do I have to be awake during LASIK?
Patients will be awake during LASIK for multiple reasons. As the procedure is typically very short, use of anesthesia would extend treatment time, recovery time, and overall cost. The risk of complications may also increase if you are "asleep." In addition, remaining awake can allow you to communicate with your doctor and conscious communication can help achieve the best accuracy and results.
One of our LASIK doctors will provide you with a small sedative pill for relaxation and comfort during the procedure. Additionally, anesthetic eye drops are administered to numb the eye to help prevent any potential discomfort during LASIK treatment.
If you would like more information on LASIK, or if you would like to schedule a consultation with Dr. Ksenia Stafeeva or Dr. Emily Schorr to discuss your options, please contact New Eyes today.