Las Vegas Eye Surgeon Honored as a "Top Doctor" for 15 Years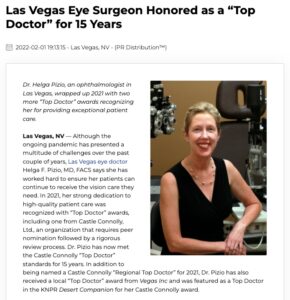 Dr. Helga Pizio, an ophthalmologist in Las Vegas, wrapped up 2021 with two more "Top Doctor" awards recognizing her for providing exceptional patient care.
Las Vegas, NV — Although the ongoing pandemic has presented a multitude of challenges over the past couple of years, Las Vegas eye doctor Helga F. Pizio, MD, FACS says she has worked hard to ensure her patients can continue to receive the vision care they need. In 2021, her strong dedication to high-quality patient care was recognized with "Top Doctor" awards, including one from Castle Connolly, Ltd., an organization that requires peer nomination followed by a rigorous review process. Dr. Pizio has now met the Castle Connolly "Top Doctor" standards for 15 years. In addition to being named a Castle Connolly "Regional Top Doctor" for 2021, Dr. Pizio has also received a local "Top Doctor" award from Vegas Inc and was featured as a Top Doctor in the KNPR Desert Companion for her Castle Connolly award.
As a Castle Connolly Top Doctor, Dr. Pizio was nominated by her colleagues and had her qualifications and patient care scrutinized by a physician-led review board — doctors cannot nominate themselves or pay for the title. To be named a Top Doctor, nominees are reviewed through a detailed assessment of their board certification, educational background, training, reputation, professional memberships, history of disciplinary action, and more. The list of Castle Connolly Top Doctors in the Las Vegas Valley was featured in the KNPR Desert Companion, to help the community identify physicians who provide exceptional care in their particular field of medicine.
In addition to the Desert Companion feature, residents throughout the Las Vegas Valley have been able to turn to Vegas Inc for the past 11 years to find a list of top healthcare providers in the region, as determined by local physicians. The Vegas Inc Top Doctors list consists only of medical professionals who have received multiple nominations from their peers and are in good standing with state medical boards.
Dr. Pizio says she is proud to be honored as a top eye doctor in Las Vegas by both Castle Connolly and Vegas Inc. She says she hopes to continue providing unparallelled comprehensive eye care options, such as cataract surgery, glaucoma treatment, and dry eye care. She encourages all residents in the area to utilize Castle Connolly and Vegas Inc's "Top Doctor" lists as helpful resources when seeking a qualified eye doctor or other medical professional.
About New Eyes Las Vegas
Dr. Helga F. Pizio has served the Las Vegas Valley as an eye doctor for over 25 years, and founded her private practice, New Eyes, in 2008. New Eyes has five offices, located conveniently throughout the Las Vegas Valley. With a team of experienced ophthalmologists and optometrists — including Dr. P. Lloyd Hildebrand, Dr. Ksenia Stafeeva, Dr. Emily Schorr, Dr. Roman Fajardo, Dr. Jeffrey K. Austin, and Dr. Andrew P. Kwong — New Eyes offers a wide variety of services, from routine eye exams and LASIK to corneal transplants, oculoplastic procedures, cataract surgery, and more.
To learn more about Dr. Pizio and the types of services offered at New Eyes, visit neweyeslasvegas.com and facebook.com/neweyeslasvegas. The doctors at New Eyes are available for interview upon request.
Contact:
New Eyes
Las Vegas Office:
2020 Wellness Way
Suite 402
Las Vegas, NV 89106
Centennial Office:
6850 N. Durango Dr.
Suite 106
Las Vegas, NV 89149
Summerlin Office:
10105 Banburry Cross Dr.
Suite 255
Las Vegas, NV 89144
Green Valley Office:
7305 S. Pecos Rd.
Suite 101
Las Vegas, NV 89120
Southwest Office:
8352 W. Warm Springs Rd.
Suite 130
Las Vegas, NV 89113
(702) 485-5000
Rosemont Media
(800) 491-8623
www.rosemontmedia.com
Previous Post