Las Vegas Eye Doctor Named Top Doctor in Region by Castle Connolly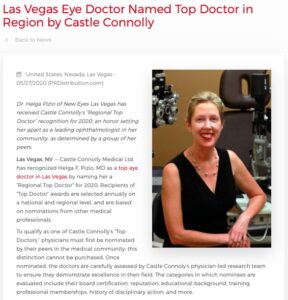 Dr. Helga Pizio of New Eyes Las Vegas has received Castle Connolly's "Regional Top Doctor" recognition for 2020; an honor setting her apart as a leading ophthalmologist in her community, as determined by a group of her peers.
Las Vegas, NV — Castle Connolly Medical Ltd. has recognized Helga F. Pizio, MD as a top eye doctor in Las Vegas by naming her a "Regional Top Doctor" for 2020. Recipients of "Top Doctor" awards are selected annually on a national and regional level, and are based on nominations from other medical professionals.
To qualify as one of Castle Connolly's "Top Doctors," physicians must first be nominated by their peers in the medical community; this distinction cannot be purchased. Once nominated, the doctors are carefully assessed by Castle Connoly's physician-led research team to ensure they demonstrate excellence in their field. The categories in which nominees are evaluated include their board certification, reputation, educational background, training, professional memberships, history of disciplinary action, and more.
As a "Top Doctor," Dr. Pizio is considered one the best physicians in the Las Vegas area, and is among the few ophthalmologists who receive this honor nationwide. Dr. Pizio says she is proud to achieve this recognition, and notes that she continues to strive for the highest quality of care for her patients.
About Helga F. Pizio, MD
Board-certified ophthalmologist Dr. Pizio has been practicing in the Las Vegas area since 1996. She founded New Eyes Las Vegas in 2008, which has since grown into five locations throughout the Las Vegas Valley. At New Eyes, Dr. Pizio and her team of specialists offer a wide variety of vision care options, including cataract surgery, laser vision correction, glaucoma treatments, dry eye care, and more. Additionally, she serves as a clinical assistant professor for the UNLV School of Medicine and an adjunct professor at the Southern California College of Optometry. Dr. Pizio is available for interview upon request.
Contact:
New Eyes
Las Vegas Office:
2020 Wellness Way
Suite 402
Las Vegas, NV 89106
Centennial Office:
6850 N. Durango Dr.
Suite 106
Las Vegas, NV 89149
Summerlin Office:
10105 Banburry Cross Dr.
Suite 255
Las Vegas, NV 89144
Green Valley Office:
7305 S. Pecos Rd.
Suite 101
Las Vegas, NV 89120
Southwest Office:
8352 W. Warm Springs Rd.
Suite 130
Las Vegas, NV 89113
(702) 485-5000
Rosemont Media
(858) 200-0044
www.rosemontmedia.com
Previous Post
Next Post