How Long Can Cataract Surgery Be Postponed?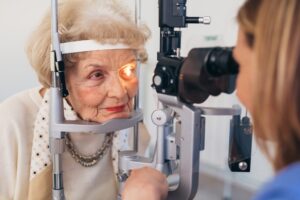 If you notice symptoms of cataracts, you should seek medical attention right away. Cataracts, which generally manifest as cloudy spots that inhibit light from passing through the retina, are extremely common, affecting approximately 50% of Americans at some point in their lives. Thankfully, modern technological advances have made cataracts more treatable than ever before. At New Eyes, we're proud to have a team of experienced cataract surgeons – Drs. Helga F. Pizio, Ksenia Stafeeva, Emily Schorr, and Devasis Reddy, MD – who each have extensive training in the treatment and management of this burdensome condition. They are very proficient in some of the most cutting-edge cataract treatments in the world of ocular health.
According to our cataract surgeons, one of the biggest defenses we have against cataracts is our ability to catch the condition as early as possible. For this and many other reasons, we advise our patients to attend annual eye exams, during which our physicians are often able to detect cataracts and, where necessary, recommend cataract surgery. Many strategies exist to surgically remove cataracts, but our surgeons typically find that SMART cataract surgery, which combines the LenSx® Femtosecond Laser system with the state-of-the-art Optiwave Refractive Analysis (ORA) system, produces the most precise and accurate results.
If SMART cataract surgery is deemed your best course of action, it is imperative that you undergo surgery as soon as possible. While we understand that certain factors – namely, major life events, pressing health issues, or financial concerns – may prompt you to postpone the procedure, it is important to know that cataracts are a progressive condition. In other words, when left untreated for too long, cataracts can contribute to significant loss of vision and even cause blindness. As such, we strongly advocate that you only postpone cataract surgery in the event of emergency or extreme circumstances.
Rest assured that our team at New Eyes will prioritize your safety and comfort throughout your cataract surgery. To schedule an appointment with one of our renowned cataract surgeons, we encourage you to contact New Eyes today.