Dr. Roman Fajardo Joins New Eyes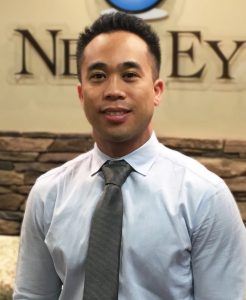 In August 2008, New Eyes opened in Las Vegas with the goal of providing optimum patient experience and best possible medical and surgical eye care in Southern Nevada. The New Eyes team of trained professionals and doctors is so proud of our continuous organic growth and our outstanding "Top Doc" reputation. From one doctor and two locations, we are now excited to add our fourth office in the Northwest at Centennial and our third surgeon, Roman Fajardo, MD. Dr. Fajardo joins the New Eyes surgeons Helga F. Pizio, MD, and Ksenia Stafeeva, MD and our medical providers Ilan Reizes, MD and Jeffrey K. Austin, OD.
Dr. Roman Fajardo trained at Shiley Eye Institute in San Diego and has extensive experience in refractive cataract surgery, LASIK, and eyelid surgery. With the addition of Dr. Fajardo and New Eyes' Centennial location, we will be able to provide more hours of advanced ophthalmology services, more locations, and superior coverage for the whole Las Vegas Valley.
Here are a few words of introduction from Dr. Fajardo:
"I was born and raised in San Diego, California. Ever since I can remember, I always wanted to become a physician, and ophthalmology was prominent in my life. Different relatives were afflicted by cataract, glaucoma, and strabismus, so I have personal experience with the ways in which these diseases affect patients' lives and the impact ophthalmologists can have. It is a gift to be able to use my skills to improve the vision and lives of others."
"I am looking forward to joining a team dedicated to delivering the best patient care possible. Everyone at New Eyes, from the physicians to the office staff and technicians, emphasizes not only patient outcomes but also the patient experience, and it is exciting to join a group with the same vision of the way patient care should be. There is a lot of need for ophthalmology in Las Vegas, and I am eager to provide top-notch medical and surgical services in a pleasant, friendly manner."
New Eyes has always focused on excellence in eye surgery and patient experience with surgeons Helga F. Pizio, MD and Ksenia Stafeeva, MD. The addition of Dr. Roman Fajardo will build on our existing superior laser cataract surgery results for New Eyes patients.
If you have questions about our procedures, or if you would like to schedule a consultation at New Eyes, please contact us today.