Emily Schorr, MD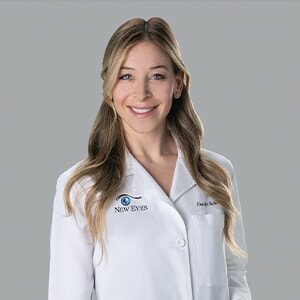 Dr. Emily Schorr earned her medical degree from Tufts University School of Medicine in Boston, Massachusetts. She completed her residency at Baylor College of Medicine in Houston, Texas, and her cornea fellowship at the New York Eye and Ear Infirmary of Mount Sinai. Following her fellowship, she joined the cornea faculty and became an assistant professor in the Department of Ophthalmology. She has worked on studies investigating the optimization of intraocular lens power calculation for cataract surgery, as well as the use of a nanotechnology  drug delivery system for eye medications.
Dr. Schorr has published numerous peer-reviewed articles. She was among the first surgeons in New York City to perform laser-assisted corneal transplantation and was instrumental in bringing collagen cross-linking to her institution's laser center.
In her free time, Dr. Schorr enjoys cooking, traveling, opera, and gardening. She loves to mountain bike, hike, and plays pickleball and tennis. She lives with her husband, three children, and two miniature poodles.