New Eyes Doctors Work with UNLV School of Medicine to Enhance UNLV Medical Student Education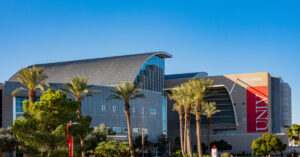 We are proud to announce that Dr. Helga Pizio, Dr. Ksenia Stafeeva, Dr. Roman Fajardo, and Dr. Jason Smart now serve as Clinical Assistant Professors for the UNLV School of Medicine. As such, they will volunteer their time as community faculty to improve medical student education, research, local outreach, and more.
New Eyes founder Dr. Helga Pizio was recently featured in Making the Rounds, UNLV School of Medicine's weekly newsletter, for her work with Financial Advisor Randy Garcia to bring an academic department of ophthalmology and eye research institute to Las Vegas. 
As the founder of The Investment Counsel Company, Garcia has worked closely with the university over the years to expand and improve the quality of education UNLV students receive, whether they study medicine, music, or anything in between. He knew of Dr. Pizio's desire to bring a department of ophthalmology to UNLV, and wanted to help her achieve her dream. Through Garcia's support and Dr. Pizio's connections throughout the university and the Las Vegas community, her dream will likely become a reality in the near future. Garcia introduced Dr. Pizio to some key players at UNLV to help her get the ball rolling, and the response has been very positive. Associate Dean for Faculty Affairs Dr. Mark Guadagnoli said he was impressed with Dr. Pizio's attention to detail and believes her strong relationships with supportive ophthalmologists in the community can ultimately lead to success in her efforts to develop the new department.
To learn more about our work with the UNLV School of Medicine, or to schedule an appointment with one of our experienced eye doctors, please contact us today.