Mask A Hero-NV Project: Keeping Our Community Safe!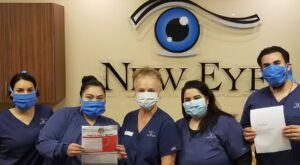 Seeking to address the current shortage of Personal Protective Equipment (PPE), the Clark County Medical Society (CCMS) recently initiated the Mask A Hero-NV Project, which was organized by Las Vegas OB/GYN Dr. Staci McHale. The program has enabled over 250 volunteers throughout the Southern Nevada community to come together and donate materials, as well as help construct and sew protective face masks that our local physicians, medical office staff, and patients can utilize. The donated masks are made out of a material called autoclave wrap, which can be cleaned and sterilized.  
All New Eyes office locations have received these much-needed donations, which will enable us to safely resume routine appointments with our patients throughout the Las Vegas Valley. Additionally, we are currently offering virtual appointments for patients who wish to limit in-person contact, and are continuing to take necessary safety precautions at all of our locations. 
If you are interested in supporting the Mask A Hero-NV Project by volunteering your time, donating materials, or making a monetary donation, please visit www.clarkcountymedical.org for more information.