Our Las Vegas Office is Moving… but Not Very Far!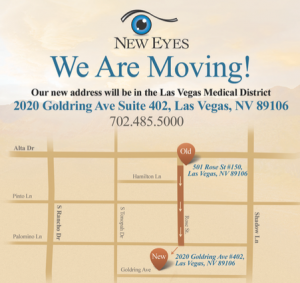 The entire team here at New Eyes is happy to announce that we will soon be moving our Las Vegas office to a new location in the Medical District. The state-of-the-art facility isn't far from our current location on Rose Street. In fact, it's just a few blocks away. The address to our new office in the Las Vegas Medical District is:
2020 Goldring Ave.
Suite 402
Las Vegas, NV 89106
We will begin seeing patients at our new office on September 8th, 2015, and it will serve as our primary Las Vegas location. As always, Dr. Helga Pizio and her team of skilled eye specialists want to provide you with the best possible vision care experience. This new Las Vegas facility will be equipped with some of the latest technologies, and all procedures and treatments available at our current office will also be available at the future location. The Goldring Avenue office is designed with your comfort and safety in mind, and all of our doctors will be providing services at the new facility.
Our locations in Summerlin, Green Valley, and Boulder City are remaining where they are, so there will be no changes in regards to those facilities. We are very excited about the upcoming move to our new Las Vegas home, and we look forward to seeing you there!
If you have questions, or if you would like to schedule a consultation at any of New Eyes' Southern Nevada locations, please contact us today.