Our Henderson Office Moved to Green Valley!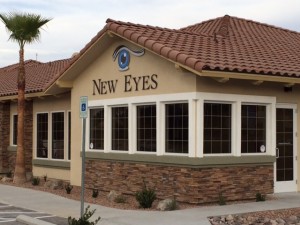 New Eyes is pleased to announce that we recently moved our Henderson office to a new, state-of-the-art facility in Green Valley. While our Henderson location has served our patients and the New Eyes team well, we are excited about the opening of the Green Valley office. We started seeing patients here on January 5th, 2015.
The address to our new office is:
7305 S Pecos Rd., Suite 101
Las Vegas, NV 89120
All of our other office locations remained the same. Dr. Helga F. Pizio and the entire team of eye doctors at New Eyes are always looking for ways to enhance the patient experience and give you the best care possible. The new Green Valley location is equipped with some of the latest diagnostic and treatment technologies, as well as advanced audio and video programs for comprehensive patient education. The facility is designed to be as comfortable and accommodating as our other Southern Nevada offices, and the fact that we started the new year in this beautiful new home is very exciting for us.
If you have questions, or if you would like to schedule a consultation at our Las Vegas, Summerlin, Boulder City, or Green Valley location, please contact us today!