New Eyes is Opening a New Office in Centennial!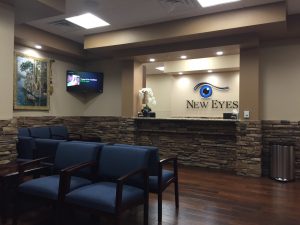 We are excited to announce the grand opening of our New Eyes office in Centennial serving patients in the whole Northwest Las Vegas Valley. The New Eyes Centennial office is now open from 8am-5pm every weekday and is located in the medical building adjacent to the Centennial Hills Medical Center.
Our new Centennial office was designed with the optimum patient experience in mind. All of our four convenient offices now feature a comfortable, clean, familiar, and efficient environment and include the latest lasers and advanced equipment for our doctors to provide state-of-the-art care. At New Eyes, our surgeons and doctors work closely with all of the Las Vegas primary eyecare optometrists to coordinate the best possible medical and surgical results.
The address for our new Centennial office is:
6850 N. Durango Dr.
Suite 106
Las Vegas NV 89149
You can find a helpful map here on our locations page.
At New Eyes, we realized from our Northwest patients and primary eye care optometrists that there was a need for our level of services locally in the Centennial area. Our new Northwest Centennial Hills office will feature the same excellent quality in surgical and complex medical eye care from our experienced providers including surgeon and founder Helga F. Pizio, MD, FACS.
Our New Eyes surgeons specialize in refractive cataract surgery called SMART Cataract Surgery utilizing the latest femtosecond laser cataract surgery technique and lenses that rejuvenate the eye reducing the need to wear glasses after surgery. Our surgeons also perform a wide range of other eye procedures including eyelid lifts, LASIK, corneal transplants, and pterygium removal.
If you have questions about our new Centennial location, please don't hesitate to call us at 702.485.5000 or visit us at neweyeslasvegas.com. We look forward to seeing you soon!