Jason C. Smart, MD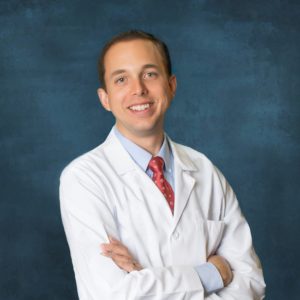 Dr. Jason C. Smart is a Board Certified ophthalmologist who enjoys taking care of his patients and mentoring medical students as a Clinical Assistant Professor at the UNLV College of Medicine. We are happy to have him as part of the New Eyes team.
A native of Provo, Utah, Dr. Smart graduated Magna Cum Laude from Brigham Young University in 2010 with a B.S. in Biology. He went on to graduate at the top of his medical school class in 2014 at Texas A&M College of Medicine. There, he was elected to the Alpha Omega Alpha Honor Society and received the Raleigh R. White Excellence in Surgery award, and the VA Outstanding Medical Student Award.
He continued his medical training, completing a transitional year at the Intermountain Medical Center in Utah. Dr. Smart then moved to Oklahoma for ophthalmology residency at the prestigious Dean McGee Eye Institute, the same program Dr. Pizio attended before coming to Las Vegas.
As a comprehensive ophthalmologist, Dr. Smart's current focus is in cataract and lens implant surgery, minimally-invasive glaucoma surgery, and various eyelid surgeries.
While at Dean McGee, Dr. Smart received training from those pioneering the techniques of minimally-invasive glaucoma surgery. There, he learned various procedures such as iTrack™ ab-interno canaloplasty (ABiC). ABiC helps to lower eye pressure by rejuvenating the eye's natural drainage system. Using this and other techniques, he is able to offer the residents of Las Vegas minimally-invasive options in the treatment of glaucoma.
In addition to performing standard cataract surgery, Dr. Smart is pleased to offer his patients the option of SMART Cataract Surgery. He is also well-trained to perform a variety of eyelid surgeries, including those to correct droopy eyelids and remove excess skin. He is Board Certified by The American Board of Ophthalmology (ABO). View his ABO certification status and profile here.
If you have questions about our doctors and the treatments offered here at New Eyes, we invite you to contact us today.

I was sent to Dr Smart on an emergent basis. I was self treating myself for what I thought was allergies and I saw my regular eye doctor. He contacted New Eyes immediately and I saw Dr Smart. Dr Smart was kind, caring and most importantly at that moment very reassuring. When tested, I had no vision in my right eye due to a hole in my cornea. He started me in numerous meds and I was to return the next day. The entire staff at New Eyes are professional and caring. I have felt so comforted every step to recovery. I cannot stress enough what an awesome path my recovery has been under the care of Dr Smart at New Eyes. They also have numerous locations so it is easy to find an office close to Las Vegas residents.

Susan Ure

July 22, 2019

12345