Roman Fajardo, MD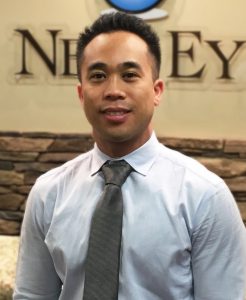 Dr. Roman Fajardo is a native of San Diego, CA. He joined New Eyes in 2016 to provide excellent comprehensive ophthalmic care to residents of Southern Nevada.
Dr. Fajardo graduated Magna Cum Laude from the University of California San Diego in 2008 with a B.S. in Biochemistry and Cell Biology as well as a B.A. in Psychology. As an undergraduate he was a teaching assistant for various biology courses, and he was Medical College Admission Test (MCAT) chemistry and physics instructor for The Princeton Review. He completed his medical education at the University of California San Diego School of Medicine, graduating in 2012.
After completing a transitional year internship at Arrowhead Regional Medical Center in Colton, CA, he returned to San Diego for ophthalmology residency at the Shiley Eye Institute, University of California San Diego. As part of his residency, he performed numerous cataract surgeries, eyelid surgeries, and glaucoma procedures. He has completed refractive surgery training at the Navy Refractive Surgery Center in San Diego, performing LASIK and PRK for our troops.
We will have more information and a full biography for Dr. Fajardo soon. If you have questions about our doctors and the treatments offered here at New Eyes, we invite you to contact us today.