Roman Fajardo, MD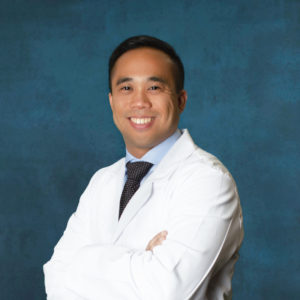 Dr. Roman Fajardo is a native of San Diego, CA. He joined New Eyes in 2016 to provide excellent comprehensive ophthalmic care to residents of Southern Nevada.
Dr. Fajardo graduated Magna Cum Laude from the University of California, San Diego in 2008 with a B.S. in Biochemistry and Cell Biology, as well as a B.A. in Psychology. As an undergraduate, he was a teaching assistant for various biology courses, and he was a Medical College Admission Test (MCAT) chemistry and physics instructor for The Princeton Review. He completed his medical education at the University of California, San Diego School of Medicine, graduating in 2012.
After completing a transitional year internship at Arrowhead Regional Medical Center in Colton, CA, Dr. Fajardo returned to San Diego for his ophthalmology residency at the Shiley Eye Institute, University of California, San Diego. As part of his residency, he performed numerous cataract surgery procedures, eyelid surgeries, and glaucoma procedures. Dr. Fajardo has completed refractive surgery training at the Navy Refractive Surgery Center in San Diego, performing LASIK and PRK for our troops.
Dr. Fajardo currently performs both standard cataract surgery and refractive cataract surgery. Using LenSx® and ORA technology in combination with multifocal and toric intraocular lenses, he strives to give patients the best vision possible. In addition, he performs numerous medically-indicated eyelid surgeries, including upper eyelid blepharoplasties, ptosis repair, entropion repair, and ectropion repair.
For my husband, Richard. Impressive. Needed Cataract Surgery, and this New Eyes staff were wonderful. He was given excellent care from beginning to end. Friendly, skilled staff, efficient service, thorough knowledge. Dr. Fajardo is smiling, efficient and makes you feel important. Dr. Pizio saw me also, and was terrific. My sight is greatly improved with bright and clear vision. Thanks to their whole staff.

Denise Hart

December 09, 2019

12345
If you have questions about our doctors and the treatments offered here at New Eyes, we invite you to contact us today.